In this new series, we will analyse the trends and statistics in order to predict who the FPL players most likely to be the next bandwagon will be for Gameweek 3
Current Bandwagons
In last week's GW2 preview, a certain Teemu Pukki was mentioned as a potential bandwagon with Norwich playing Newcastle at home. It's safe to say that he's become one, with over 830,000 transfers being made for him following his hat-trick against Steve Bruce's boys.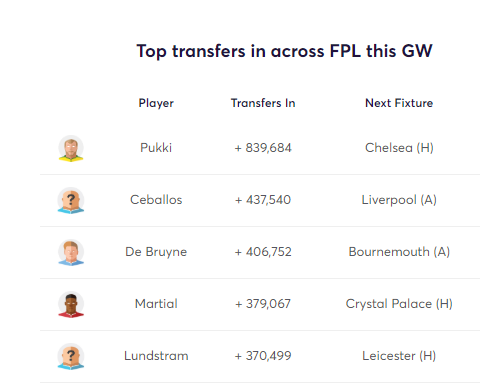 His value has gone through the roof, with Bournemouth's front two being the most common transfers out in order to get him in.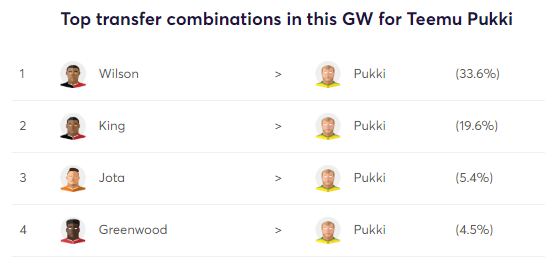 Martial has continued his ownership ascension, playing up top for United and scoring in both of the opening gameweeks of the season.
Ceballos impressed massively for Arsenal against Burnley, running the show while picking up 2 assists.
De Bruyne also grabbed 2 assists, showcasing how much of an FPL asset a fully fit KDB can be, this time at a relatively discount price considering his injury-riddled 18/19 season.
Potential Bandwagons: GW3
Heung-Min Son (MID, £9.5)
Embed from Getty Images
An opening contender for a player who could explode in popularity from GW3 would be Spurs' Son, who is available again following a 3-game suspension.
He's always been an interesting FPL asset – he doesn't rack up too many minutes, generally around the 2000 mark, but is one of the most explosive assets in the game.
He's picked up over 150 points in each of the last 3 seasons, scoring 38 goals and picking up 25 assists.

Considering he hasn't kicked a ball this season, this is certainly more of a preemptive shout, with there being no stats to base this off. We simply have a top class player, returning to one of the best teams in the league, playing one of the worst teams in the league, at home.
There's also the fact that, due to his suspension, his ownership sits at 1.5%. He may not even start, but if he comes off the bench to run Newcastle ragged, his ownership could rise massively as a key FPL asset makes his way back to the forefront of players' minds.
Sadio Mané (MID, £11.5)
Embed from Getty Images
Another top-tier level player that could start off a bandwagon is Liverpool's Sadio Mané.
He's another massively explosive FPL asset, picking up a massive 231 points last year – just 28 fewer than Mohamed Salah. The key here for a potential bandwagon is the relationship between these two.
They're both part of Liverpool's now famous front three, sitting either side – or often in front of – Roberto Firmino. The thing is, Mané is £1m cheaper than Salah, but has the potential to put up fairly similar numbers in terms of attacking returns.
Mané made his full return to the Liverpool first team last week against Southampton, following a brief cameo in GW1.
He picked up 13 points with a goal, an assist, and all 3 bonus points. This has already started a bit of an Egyptian exodus, with this being a common transfer already.

Looking at that game in particular, Mané was much more heavily involved than Salah, with 2 shots and 5 attempted assists.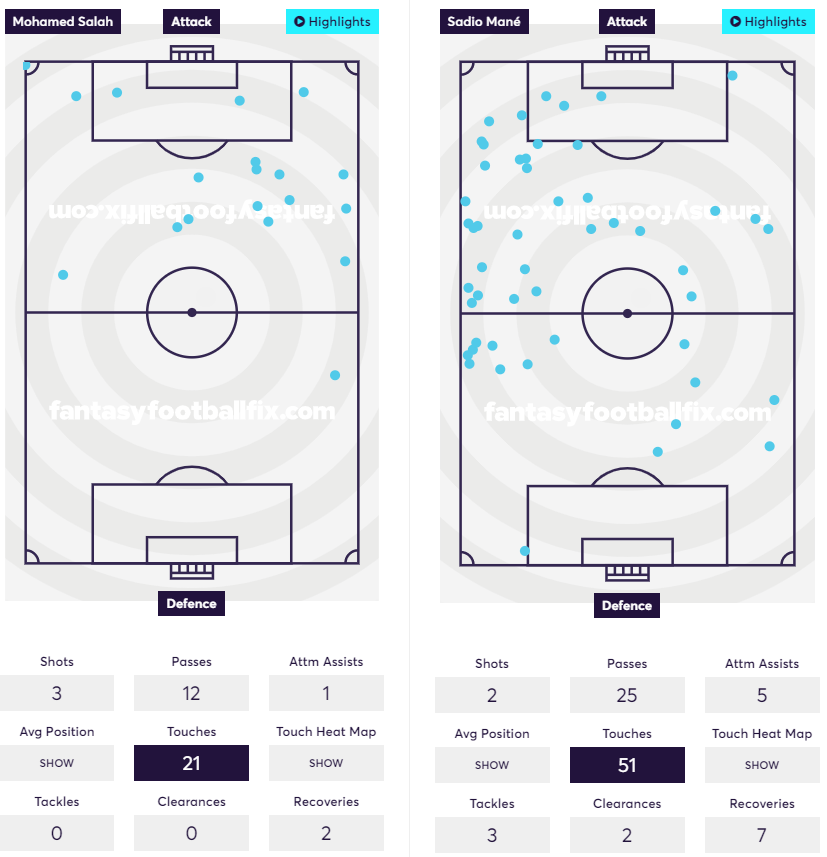 Of course, this is an extremely small sample size, but if Mané outshines Salah again this week, this could really set off the wheels on this particular bandwagon as players look to free up funds and opt for a higher value pick.
Todd Cantwell (MID, £4.6)
Embed from Getty Images
Rounding off a selection of midfielders, here's a much, much cheaper option in the form of Norwich's Todd Cantwell.
Though not getting much attention, Cantwell was one of the chief organisers of the recent Pukki party, putting up some of the best creative numbers so far this season.
In the opening 2 matches, the £4.6 midfielder has racked up:
8 attempted assists (2nd)
0.8 expected assists (5th)
6 shot assists from open play (2nd)
While De Bruyne has been by far the creator-in-chief this season, Cantwell has picked up some solid numbers – especially for a £4.5 midfielder playing for a newly-promoted side.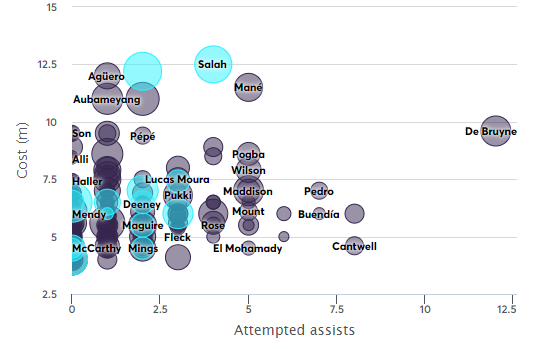 Again, this ties into the idea of value. People are always going to jump on players doing well, of course – but players at extremely cheap prices who are providing value beyond their price point will be massively sought-after.
Though it may not be a Pukki, De Gea or Mané-sized bandwagon, a lot of players could be after Cantwell if he continues this creative form.
Norwich's next two fixtures are Chelsea (H) and West Ham (A).
Though tricky on paper, Chelsea are still in the early stages of finding themselves under Lampard, while West Ham have gotten off to a pretty shaky start.
They both sit in the bottom 5 for 'Expected Goals Against' this season, with West Ham's not all just coming from the City game, either.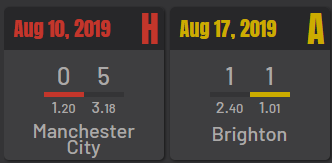 While another Pukki party could be on the cards, Cantwell could provide a very cheap route into a seemingly potent Norwich attack. Not quite a sentence I thought I'd be typing a few gameweeks in to the season, but here we are – take advantage!