See that off in the distance? That's the light – the light at the end of the tunnel, signalling that the international break is nearly over.
Last week's bandwagon guesstimation was a bit of a duff one, admittedly – and I'm not talking Damien, he was decent. Let's go for some picks who aren't already owned by half the game, eh?
Before getting into that, let's take a look at the current bandwagons that have picked up steam over the course of the international break.
Current Bandwagons
As things stand, Tammy Abraham's stock is continuing to rise following yet another brace, with there being over 430,000 transfers in for him since the end of the last gameweek.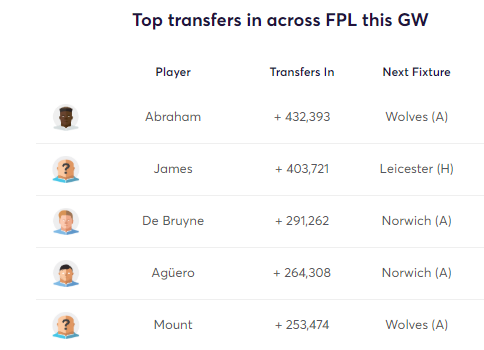 Daniel James is another player on the rise, scoring 3 goals in 4 games. He's nicely priced, currently sitting at £6.1, providing potential value in that cheaper midfielder bracket.
Kevin De Bruyne is another player racking up the points, scoring once and claiming 5 assists in the opening 4 gameweeks. He's attempted the most assists of any player (16), created the most big chances (6), and has the most expected assists of anyone in the league (2.97 – for the sake of comparison, Trent Alexander-Arnold is second with an xA of 1.92).
KDB looks to be pretty much essential at the moment, starting the season in inspired form. He even managed a goal and 3 assists in Belgium's last game during the international break – he's absolutely flying.
Potential Bandwagons – GW5
Manuel Lanzini (MID / £6.5m / 3.3%)
One potential option for a player that could pick up some form over the coming weeks is West Ham's Manuel Lanzini.
His ownership stands at only 3%, and he also sits in that cheaper-to-mid-priced-midfielder bracket that isn't the most alluring at the moment.
Lanzini's picked up 18 points in the opening 4 games – a very respectable return. The creative stats are what make him stand out, though. The Argentine is 2nd for chances created with 14, having also had 7 shots, 5 coming in the box.
Looking at expected goals for each team, West Ham are actually second behind Man City, even though they've only scored 6 goals.

West Ham's upcoming fixtures aren't too bad, either – they face Aston Villa (A), Man United (H), Bournemouth (A) and Crystal Palace (H) in their next 4 games. Villa and Bournemouth have faced the 1st (19.3 p/g) and 5th (15.5 p/g) most shots against them respectively, while Man United have quite famously only kept 1 clean sheet since Ole Gunnar Solskjaer got the job permanently.
He's also a primary set piece taker for West Ham, sharing these duties with Robert Snodgrass.
Nicolas Pepe (MID / £9.4m / 3.7%)
This is a slightly odd one, considering his price point – but who doesn't love a shiny new toy?
Pepe has looked decent since signing for Arsenal, with his stats looking particularly impressive considering that he has only played 244 minutes in the opening 4 games, coming off the bench in the first 2 fixtures.
The Ivorian has had 12 shots so far, second only to Aubameyang (13) of Arsenal's players. He's also attempted 5 assists, again the second-most of any Arsenal player. Another interesting area to note is that he's been on a fair few set-pieces as well, with Ceballos taking a similar amount.
Again, the price point is tricky – he's slightly cheaper than De Bruyne, who we aren't giving up in a hurry, but he could be a fun punt if you can work him into your squad.
This is especially interesting considering that a lot of players will shy away from Aubameyang, due to preferring the likes of Pukki, Barnes and Haller as their forwards, but may still want a part of the Arsenal attack.
Their upcoming run of fixtures borders on absurd, with them facing a hapless Watford up next in GW5, followed by a near-sea of green.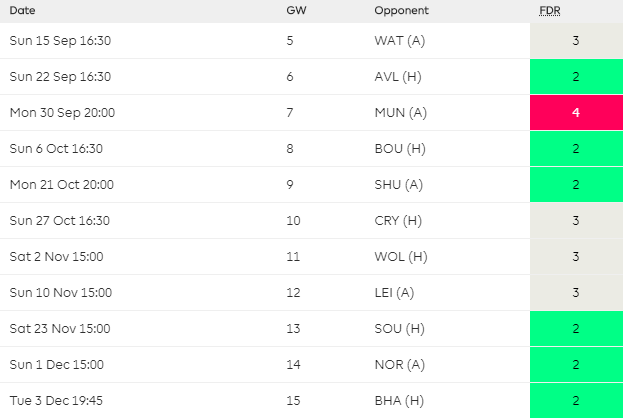 Nicolas Otamendi (DEF / £5.4m / 1.7%)
Rounding things off with another Nicolas, City's former defensive stalwart, now rotational option, may be seeing a fair bit of action in the coming weeks following Aymeric Laporte's injury.
Otamendi has started 3 of City's opening 4 games, partnering Laporte in all of them. While missing Laporte will of course be huge for Man City, they're still Man City and they defend by keeping the ball – arguably no other team does this better.
He's managed a few shots so far, having 2 shots in each of City's games against Bournemouth and Spurs. More than capable of picking up goals from set-pieces, he should be their primary threat from them with Laporte out of the picture.
What makes him a potential bandwagon is his price – he's a potentially surefire way into the City defence – considering Zinchenko's risk of rotation with the returning Mendy – at £5.4m.
With the uncertainty around premium defenders at the moment, especially Liverpool's, picking up a member of the best defence in the league, at least in terms of shots conceded + clean sheets kept, could be great value.