It's been a bit of a mad week in the world of FPL. Hacked accounts, drama aplenty, Lundstram bench points and Sterling captaineers who picked up huge hauls without him kicking a ball.
I like to think it was because there wasn't a bandwagon article for GW 6 – it just threw off the natural balance of the community. No?
Anyway, here's a look at a few players who could pick up steam following GW7.
Current Bandwagons
The Tammy Train keeps on rolling, with Abraham being brought in by over 400,000 players again this week.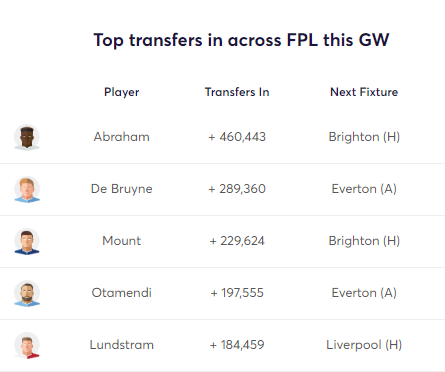 This is despite blanking in Chelsea's 2-1 loss against Liverpool – though Chelsea do have an excellent run of fixtures coming up.

De Bruyne picked up 17 points in City's 8-0 annihilation of Watford last weekend, scoring 1 and setting up another 2. In that same game, Nicolas Otamendi scored 15 points following a goal, an assist and a clean sheet – he was mentioned as an option in our GW5 bandwagon prediction.
John Lundstram continues to be FPL stardust, picking up a 12-pointer against Everton. He's already gone from £4.0 to £4.4, claiming an ownership of 27%.
Potential Bandwagons – GW7 Onwards
Fikayo Tomori (£4.5m / DEF / 1.6%)
One name that's been thrown around within the community over the past week or two has been Chelsea's Fikayo Tomori. He's started Chelsea's last 3 games in the league, and was a stalwart in Lampard's Derby side from last season.
Looking at the pros and cons, there's one huge pro here: he costs just £4.5. Plus, he seems to be earning a starting spot for a top 6 side. Sounds like FPL gold dust, but the biggest con would be Chelsea's defensive form – they're yet to keep a clean sheet under Lampard.
Chelsea haven't done too badly in terms of expected goals against – they have an xGA of 7.97, but they've conceded 13 goals.
The return of N'Golo Kante could help things massively, as could Chelsea's upcoming fixture run. They face Brighton at home in GW7, a side who have scored 5 goals in their opening 6 Premier League games.
There a few more factors to take into consideration:
Chelsea's aforementioned run of fixtures following the Brighton game. A strong start to this run can see more players opting for Chelsea assets.
People moving away from "big at the back" – of the 10 most transferred-out players this week, 4 of them are £5.5+ defenders. Considering the performances from the top-tier midfielders and forwards (well, Aguero), any areas where money could be saved will be highly sought after.
Çaglar Söyüncü (£4.6m / DEF / 5.4%)
Following on from that final point, there's another defender in the £4.5 – £5 price bracket who looks particularly interesting – Lord Farquaad himself, Söyüncü.
Leicester have been much more impressive than Chelsea defensively, even though they've only kept one clean sheet. In the opening 6 fixtures, they've conceded just 5 goals, with an Expected Goals Against of 5.69 – the second best in the league so far.
After a tough set of opening fixtures, including matches against Chelsea, Man United and Spurs, Leicester have got a very solid run of fixtures. Aside from games against Liverpool and Arsenal, they have a sea of green from now until late-December.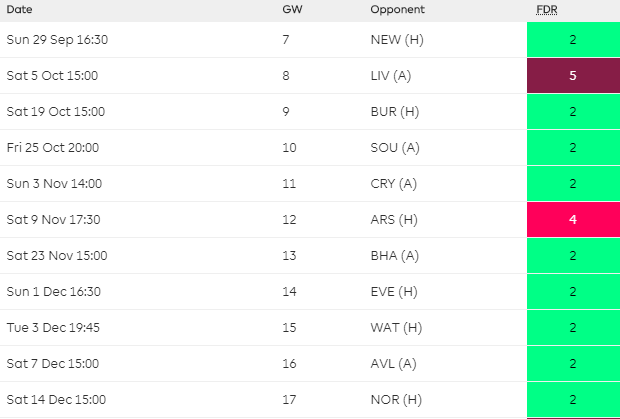 Due to the aforementioned flow of funds from defenders to midfielders and forwards, a starting defender for a team that looks solid defensively could be a great shout. There are other, more attractive options from the Leicester defence such as Chilwell and Pereira, though they'll cost you much more; £5.4 and £6 respectively.
Soyuncu doesn't boast much of an attacking threat, having had just 1 shot this season, but a potential drip-feed of 5/6-pointers could be massively valuable considering his price.
Andriy Yarmolenko (£5.9m / MID / 0.9%)
Rounding off things, Yarmolenko. You know when you've just got a funny feeling about a player?
On the mend after a nasty injury last season, Yarmolenko's minutes have been managed, with him being eased back into the side – he's yet to play a full 90 minutes. That being said, he's got 2 goals 5 appearances this season (one of those being a <15 minute cameo in GW2), with an 11-pointer against Man United last week.
He's managed 9 shots and 6 attempted assists in 291 minutes, averaging 4.8 points per game. While starting out on the right for West Ham in his appearances so far this season, he's registered a decent number of touches in the box, coming in from the right to shoot with his left.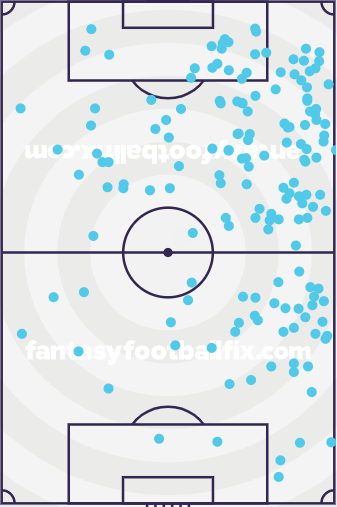 West Ham's upcoming fixtures are quite interesting, too. They have Bournemouth in GW7, a side not renowned for their defensive acumen. Following that, they play Palace (H), Everton (A), Sheffield United (H), and Newcastle (H).
At sub-£6 and with an ownership of less than 1%, this could be a great punt in a price bracket which doesn't have too many attractive options.