Another gameweek in the bag. More injuries to contend with, more potential rotation to worry about, and more big chances for Tammy Abraham to miss.
Let's look forward to gameweek 8, and players who can kickstart potential bandwagons going into the international break. Yes, another one.
Current Bandwagons
It's been a rather quiet week in terms of bandwagon transfers, with there not being a standout player in GW7. The top scorers included the likes of Matt Doherty (God bless him but nobody's going for him at £6), Jonny Evans, Jorginho, and Gini Wijnaldum.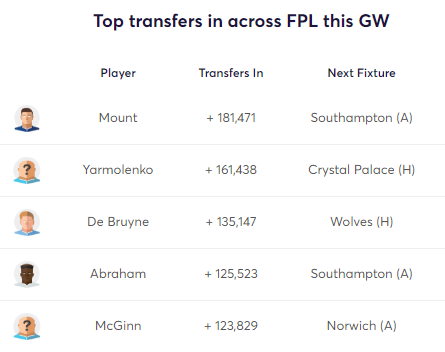 Mason Mount is the most transferred-in player this week, followed by Andriy Yarmolenko – a player mentioned in last week's bandwagon roundup. A player who I said I "had a funny feeling about", and didn't buy him. Clever, that.
De Bruyne manages to be the third most transferred-in player despite picking up an injury during the week, keeping him out of City's Champions League fixture. It isn't yet known if he'll play this week; most likely not with an international break looming.
An interesting player rising in ownership is Aston Villa's John McGinn. The £5.8 midfielder scored his 3rd goal of the season this week – he's registered 13 shots and 7 attempted assists in the past 5 matches.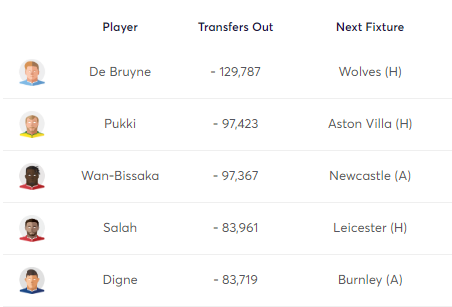 In terms of players getting launched into the FPL ether, De Bruyne tops this list due to his aforementioned injury. After two consecutive blanks, people are getting rid of Pukki in their droves, while pre-season template favourites Salah and Digne have also been on the chopping block.
Potential Bandwagons – GW8 Onwards
Bukayo Saka – £4.5 / MID / 0.4%
FPL teams have always revolved around the superstars like Aguero, Suarez, Salah, Ronaldo, etc. Though, is there anything more enticing than a player priced as bench fodder who earns a place in a top side with good fixtures? That could be on the cards, at least temporarily, with Arsenal's Bukayo Saka.
He started for Arsenal in their abominable 1-1 draw against Man United, but picked up the assist for Aubameyang's goal. He also managed a goal and 2 assists in Arsenal's Europa League win away at Eintracht Frankfurt last month, showcasing productivity at just 18 years of age.
With the De Bruyne injury and the form of the more costly strikers, namely Aubameyang, a cheap midfield option who actually plays and poses a threat going forward could be gold dust.
He's played 124 minutes of football in the Premier League so far, registering 3 shots and 3 attempted assists. Not too shabby.
At worst, he'll end up being a £4.5 midfielder that gets occasional minutes, or regular bench appearances. At best, he can keep his place in the side and potentially provide excellent value.
Embed from Getty Images
Riyad Mahrez – £8.5 / MID / 4.7%
Yes, yes, he's already becoming *a thing*, but his ownership is still very low, and it's a bit of a slow week.
Mahrez has started 3 of City's last 4 Premier League games, quietly picking up two consecutive double-digit hauls.
In the past 5 gameweeks, he's registered 11 shots – 9 on target – with 16 attempted assists. For attempted assists, he's only behind Alexander-Arnold (18), Sigurdsson (17), and De Bruyne (17) himself. He's also third for 'Expected Assists' with 1.96, and has been City's deputy set piece taker behind De Bruyne.
With the extent of De Bruyne's injury not being known, and whatever the hell is going on with Bernardo Silva, Mahrez's form could well keep him in the team.
If De Bruyne is out for longer than expected – remember, Martial was supposed to be out for one GW and I don't think he's been seen since – then he could become City's creator-in-chief.
Embed from Getty Images
Chris Wood – £6.2 / FWD / 1.2%
The Barnes train has seemingly come to a halt, but the Woodmobile maybe just about to take off. Barnes' strike partner has scored 3 goals in the past 2 games, picking up 20 FPL points in the process.
In those two games, he's had 6 shots, with 4 being on target. Not staggering statistics, but certainly solid. In terms of Expected Goals, he sits 5th over the past 5 gameweeks with 3.31, ahead of the likes of Salah (3.25), Sterling (3.07), and Aubameyang (2.65).

Also, over the past 5 gameweeks, Wood has had 6 big chances – the 4th-most of any player in that time.
Burnley host Everton this week, a side struggling defensively that have lost their last 3 matches. They've also only managed 3 away wins this calendar year.