So… FPL is in a bit of a weird place at the moment, isn't it?
The GW8 dream team would've scored just 17 points in GW9, and it's the first time we've had back-to-back GW averages of under 40 points in over 190 gameweeks.
Over the past 3 gameweeks, the top scorers don't include names you'd expect to see – they include the likes of Matt Targett, Adama Traore, Daryl Janmaat, and Jack O'Connell.
With that in mind, it's worth checking out our Don't Panic… yet piece which came out on Wednesday. This season has been a bloody rough one, with it being difficult to predict. So, naturally, let's try and predict which players could become bandwagon choices.
Current Bandwagons 
Before that, let's focus on which players have been picking up steam this week.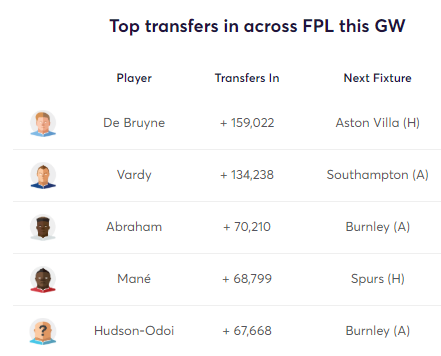 Heading the pack is Kevin de Bruyne, who's ownership has been an interesting figure to follow recently. After picking up an injury prior to GW8, it dropped from 43% to as low as 31%, though without his price dropping. He returned in GW9, not providing any FPL returns as such, but has seen his ownership jump up to 35% this week.
Jamie Vardy has been brought in by 140,000 FPL managers since GW8, with him scoring 8 points against Burnley with a solitary goal.
Tammy Abraham is another player who didn't grab any FPL returns in GW8 but has continued to see a rise in ownership. He's blanked in 3 of his last 4 games, but has had 15 shots in that time, 7 of those being big chances.
Potential Bandwagons – GW10 Onwards
David Silva – £7.6m / MID / 11%
One player who has somewhat slipped under the radar due to Pep's Wheel of Rotation is David Silva. He's picked up 4 double-digit hauls this season, the most of any player, while starting 7 of City's 9 league games so far.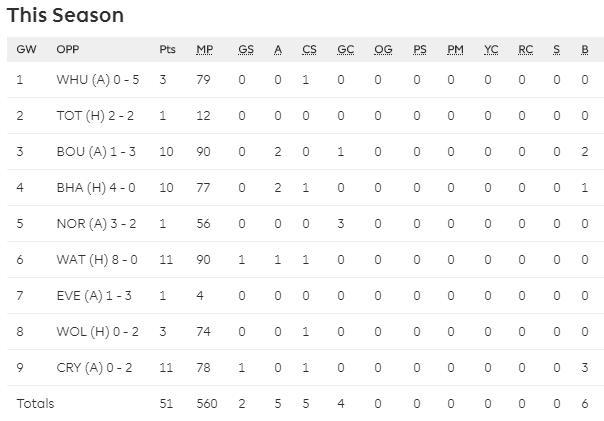 Granted, his stats don't jump off the page – in the past 3 gameweeks he's had 4 shots (2 being on target), and 3 attempted assists.
That being said, he didn't play a single minute of City's 5-1 battering of Atalanta in mid-week, and is primed to start against Aston Villa at The Etihad. He's only started 1 of their 3 Champions League games, and as of last year has retired from international football.
City's attacking assets have been difficult to predict this season. Aguero hasn't returned in any of City's last 3 games, with Jesus starting in his place for two of them. Sterling has only really trickled through attacking returns since his 20-pointer in GW1, even though he's been exceptional in the Champions League, and for England as well.
If there's a decent chance of picking up a key City attacking asset, who's starting a fair number of games, and can return at an explosive rate for just £7.6m – surely it's worth a go? If he grabs another big return against Villa, his ownership could really start to rise.
Danny Ings – £5.9m / FWD/ 2.4%
Embed from Getty Images
A player close to my heart due to a small run of form last season, Danny Ings has found himself in another purple patch. In the past 3 gameweeks, Ings has scored in each game, those being against Spurs (A), Chelsea (H), and Wolves (A). He's also picked up 7 bonus points in those games.
In those 3 gameweeks, Ings has had 11 shots (joint-third of all players in that time), with 6 shots on target (joint-second), as well as 3.17 Expected Goals – comfortably the highest of any player.
The forward market has been a rather volatile one this season, with a lot of cheaper options cropping up without being too consistent. Pukki and Abraham had explosive runs of form which have been followed by a number of blanks, with the former in particular being binned by a large number of managers.
Southampton haven't set the world alight this season, but they're actually 5th for Expected Goals this season.
Their upcoming fixtures are also rather interesting – they play Leicester at home, followed by games against City (A), Everton (H), and Arsenal (A). Leicester, while not conceding many, have only kept 2 clean sheets this season.
Everton and Arsenal haven't looked great defensively, while Man City are under some form of centre-half-related voodoo. Providing that he keeps fit *touch wood*, Ings could be a good option going forward.
Callum Hudson-Odoi – £6.0m / MID / 2.7%
Embed from Getty Images
Another player being touted among certain circles is Chelsea's Hudson-Odoi.
Chelsea's crown jewel has provided attacking returns in the last 3 gameweeks, with him only playing the full 90 once in that time, coming back from a long-term injury. He's averaged 6 points per game since returning, a very solid offering.
In the past 3 gameweeks, he's had 4 shots and has attempted 9 assists, picking up 3 actual assists so far. Those 9 attempted assists are the joint-third highest of any player in that time, creating 2 big chances – the most of any player.
The bandwagon potential is there, with him playing a fairly prominent role in an attacking side, providing a very direct threat for Chelsea going forward.
Of course, there's not a guarantee that he'll start every game. Willian has started Chelsea's past 5 league games, Mason Mount has played in the front three on occasion, and Christian Pulisic is… also there.
Chelsea's upcoming fixtures are Burnley (A), Watford (A), and Crystal Palace (H). While Burnley away is always a tricky one, their other two fixtures look a bit more comfortable. A few returns over these next few GWs could see a Callum Hudson-Odoi bandwagon picking up speed. A CHO-CHO train, if you will. No? Fair enough.