Another FPL gameweek is in the books, and everything pretty much went as planned. I mean, we all saw Leicester winning 9-0 and Christian Pulisic being the gameweek's top scorer, right? Yeah, it's been another odd one.
Though it won't take much guessing to figure out who the current bandwagons are, let's try and pick out a few players who could get their respective bandwagons rolling with a strong performance in GW11.
Current Bandwagons – GW11
After their 9-0 demolition of Southampton, Leicester players are dominating the market at the moment, with 4 of the top 5 most transferred-in players coming from the Foxes.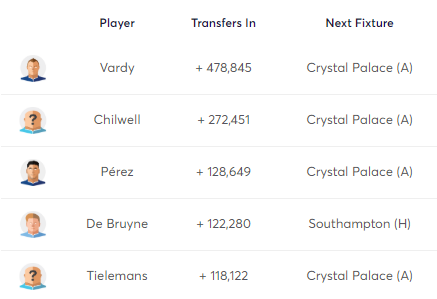 Jamie Vardy leads the way after bagging a hat-trick in that match, with there being over 470,000 transfers made for him this week. After his 20-pointer, he's now the top scoring player in FPL so far this season, continuing his outstanding form so far under Brendan Rodgers. He plays every game, seldom gets subbed, and leads the line for a very in-form side – all for £9.3m. Can't really go wrong with that, can you?
Other Leicester players whose stock has skyrocketed includes Ben Chilwell, Ayoze Perez, and Youri Tielemans – accumulatively bringing in over 500,000 transfers between them.
The other member of the top 5 most transferred-in players is Kevin de Bruyne, who only scored 6 points but he really should've had more than that; Silva didn't touch that ball. Man City play Southampton at home this week, and De Bruyne didn't feature in City's midweek cup game. Barring any more dubious goals panel chicanery, he should do well..
Looking at the players being transferred out, a few common recent offenders are cropping up, including Teemu Pukki.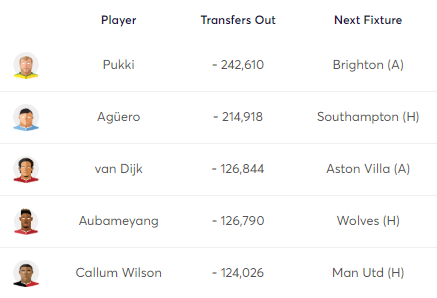 Aguero, a bona fide FPL legend, has also seen his stock fall, with Gabriel Jesus being Pep's preferred number 9 over the past few weeks. Pierre-Emerick Aubameyang and Callum Wilson are also on the chopping block after blanking recently. No prizes for guessing who's been replacing them…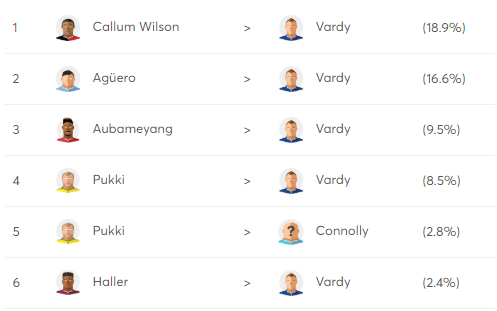 Potential Bandwagons – GW11
Benjamin Mendy – DEF / £5.9 / 1.4%
Embed from Getty Images
Ohhh boy. Remember the start of last season when Mendy was an absolute assist machine, bagging 5 assists in the opening 5 games? Let's ignore what happened thereafter, and just remember the good times.
Those good times? They might be coming back. Mendy has finally come back from injury, and has started City's last two games in the Premier League. City have kept clean sheets in both games, though Mendy could've had more than the 12 points he picked up in those games.
Against Aston Villa in GW10, Mendy was on course for a double-digit haul, until his assist for De Bruyne's "goal" was taken away, as Silva was adjudged to have had the final touch.
This is more of a potential pick as opposed to one that's based on stats – he's had 2 shots and 0 attempted assists in those two games. In those two gameweeks, he's 6th for passes in the final third of all defenders, having played fewer minutes than those above him. Also, here's his heatmap during that time, showing him stationed high up the pitch: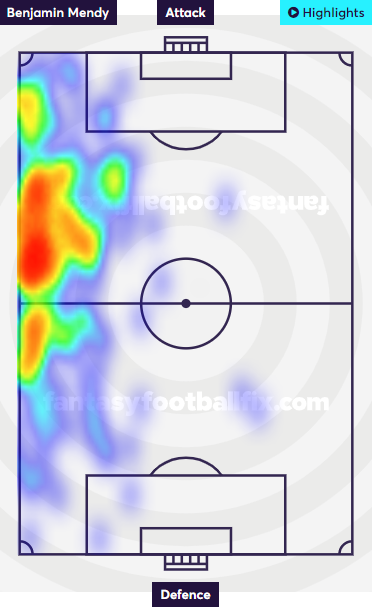 In terms of competition for the left back spot, he's City's only currently available left back. Angelino and Zinchenko are injured, Delph is long gone, and Laporte – who can put in a shift there – is also injured. Low ownership, risky due to his injury record, but we've all seen what he can do going forward – certainly worth a go.
Anthony Martial – MID / £7.6 / 4.9%
Embed from Getty Images
One of the most often flirted with players in FPL, he'll end up in everyone's team at some point, if only for a brief period of time.
Having just come back from injury, scoring in United's 3-1 win against Norwich, though he did miss a penalty. United's situation with penalty takers is an odd one – Rashford seems to be the main man, though he also managed to miss one against Norwich.
In terms of stats, in the 81 minutes he's played since returning, Martial has had 4 shots – all of them being big chances – and has also 1 attempted assist. His 4 big chances are the most of any player in the past 2 gameweeks, tied with Gabriel Jesus who played 99 more minutes.
United have a strong run of fixtures, though it's difficult to tell what a *good* fixture is for them these days.

Again – a player who we know has the talent to be a prime FPL asset, and is returning from injury while having a very low ownership.
Neal Maupay – FWD / £6.0 / 1.3%
Embed from Getty Images
A player who's been picked up by a few players within the FPL Twitter community, Brighton's Neal Maupay has scored 3 goals in the past 6 games, including 2 in the last 3 against Everton and Spurs.
Brighton have a tough run of fixtures coming up, but their next fixture is nearly as good as it gets – Norwich at home. Norwich have conceded 24 goals in their opening 10 games, racking up an xGA (Expected Goals Against) of 22.66 – far higher than that of any other team.
Looking at his individual stats so far this season, Maupay has quietly racked up the shots, having 29 of them in the opening 10 games – the 8th most of any player this season, just ahead of Pukki, Aubameyang, and Kane. 25 of these shots have been in the box, though only 4 have been chalked up as big chances.
In the past 5 gameweeks, he's had 19 shots, as well as 6 attempted assists: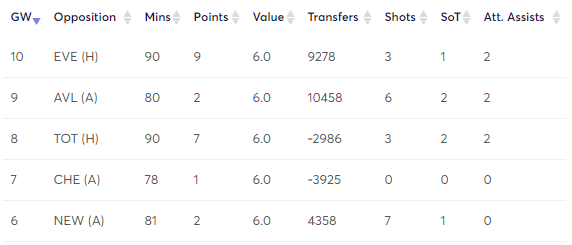 Though the fixtures are tough after that, if Maupay racks up a solid haul we could well see a bandwagon emerging.