Gameweek 11 was one for the Lords.
Lord Lundstram finished as the top scorer with a 21-point mega-haul, and Lord Farquaad – aka Çaglar Söyüncü, bagged a 14-pointer, with both combining in a large number of teams to provide hauls aplenty.
17.5% of players in the top 10k own both, with 5.2% of all players owning the pair, helping to carry teams all across the globe.
Are there any players who could break out in the same way these lads have? Perhaps not on Lundstram's level, but it's key to get ahead of the game and find potential stars before they've broken out.
Here's a look at which players could pick up a head of steam following GW12 – the final gameweek before another international break. These are players who aren't already flying up the ownership charts and are in a purple patch – more under-the-radar options who could become much more highly owned following this gameweek.
Current Bandwagons – GW12
Of the players who are currently being brought in, /r/soccer superstar Christian Pulisic leads the way, with 260,000+ transfers this week. This follows his 29 points in the past 2 gameweeks.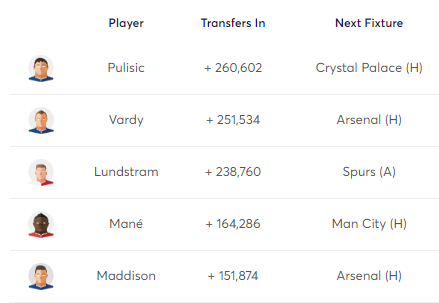 The Vardy party continues, as he's emerging as the primary option of all forwards at the moment, being the first player to break the double-figure mark for goals this season. With 80 points, he's also the top scoring player in FPL.
John Lundstram, who is apparently a scouser – I thought he was Norwegian or something, continues to grow into an FPL legend following a 21-pointer against Burnley.
In terms of players being sold, Pukki leads the way yet again, having blanked for the 6th consecutive gameweek. We thought he'd be another Vardy – at this rate, he won't even end up being a Michael Ricketts.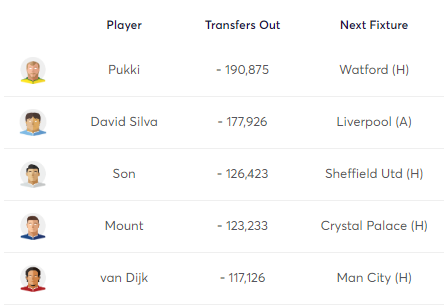 Son and Mount are interesting ones – they've been sold by the barrel load due to potential unavailability. Mount could be fit for the weekend, and Son had his red card rescinded.
Potential Bandwagons – GW12
Embed from Getty Images
Youri Tielemans – MID / £6.6m / 8.6%
Leicester players have been flying up the ranks in terms of ownership recently, largely due to their 9-0 demolition of Southampton.
Vardy has been the primary target for players, with his ownership going from 10% to 28% since the start of October.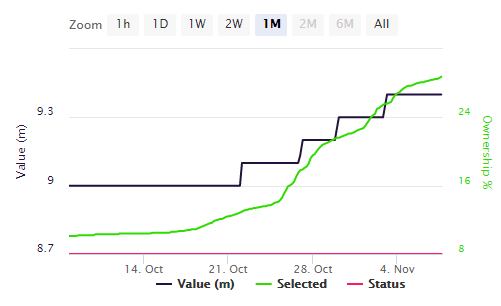 One option from Brendan Rodgers' top 4 contenders is Youri Tielemans. He's been superb since signing for Leicester, and has grabbed 3 goals and 2 assists from midfield so far.
He ranks joint-eight of all players for shots this season with 24, with 17 attempted assists as well. In the past 4 gameweeks, Tielemans has had 6 shots, with 7 attempted assists.
The mid-priced midfield bracket is an odd one at the moment. Mount has offered great value, but the other options are either much pricier, e.g. Maddison, are a bit hit-and-miss, e.g. Yarmolenko, or aren't completely nailed-on, e.g. Pulisic.
Tielemans could provide plenty of great value for his price considering the number of shots he's had this season, and just how good Leicester have looked. Their upcoming run of fixtures is tasty as well:

Embed from Getty Images
Aaron Ramsdale – GK / £4.6m / 2.7%
Now, a goalkeeper isn't usually someone who'd be a bandwagon player, especially one who you couldn't pick out of a lineup that plays for a usually porous Bournemouth.
That being said, Bournemouth – all of a sudden – have been excellent defensively in recent weeks. Since the start of October, totalling 4 gameweeks, Bournemouth have the second best Expected Goals Against (2.96) of any team in the league, conceding just once in that time.
Ramsdale has played every game for Bournemouth this season, conceding 13 goals in 11 games – the joint-fifth best record in the league. He's also made 35 saves this season, the joint–fourth most of any keeper. Thanks to this, he's picked up an extra save point 6 times this season, getting bonus points 3 times.
People may be on the lookout for a new keeper – the top options aren't cutting it, whether it be due to a lack of clean sheets or injuries.
With Bournemouth suddenly playing like Atletico Madrid, Ramsdale could be a good option – their next few fixtures include 3 sides who don't offer much going forward, and a Spurs side in dire form.
Speaking of expected goals, Spurs have the worst xG of any team in the league since the start of October, with just 2.96. For contrast, Man City have an xG of 12.19 in that time. A more grim comparison would be Watford, who have an xG of 4.44 in the past 4 gameweeks.

Embed from Getty Images
Leandro Trossard – MID / £5.8m / 0.3%
A player who has played 56 minutes of football since GW5 that plays for a side that has United and Liverpool away in the next 3 games?
Yep.
Trossard is a player who hasn't seen much action this season due to injury, but he's impressed when he has played. In the 5 games he's played, totalling 303 minutes of action, he's got 2 goals and 2 assists, earning him 5.2 points per game on average.
In that limited space of time, he's racked up 9 shots (33 minutes per attempt) and 12 attempted assists (25 minutes per chance created).
His touch map shows that while he has his defensive duties, he does crop up in the box rather often, playing on the left-hand side.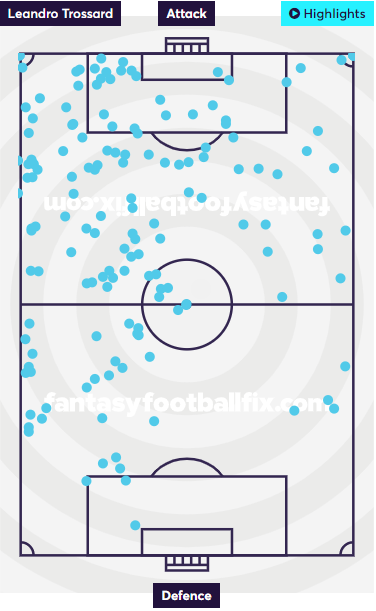 In terms of how Brighton have been getting on, they're a bit more proactive going forward than they have been in recent years. They've scored 9 goals in their past 4 games, with an xG of 7.73 – the fourth-best in the league during that time. Their xG of 16.37 for the season is the fifth-best of any side.
He was brought up in our Brighton Team Guide at the start of the season, impressing massively in preseason. This might be more of a slow burner. Brighton have some tough fixtures coming up, so it could be a good time to assess him and Brighton as a whole.