The final international break of the year is over! We're properly on our way into the business end of the season, where teams have fixtures every other day and every manager has their own Wheel of Rotation™.
So, as we roll into GW13, it's time to take another look at players that could potentially become bandwagons over the next few weeks, following performance this week, as well as other potential circumstances.
Current Bandwagons – GW12
Looking at the transfers made following GW12 and during the international break, it's no real surprise that Jamie Vardy continues to be the quickest-rising star among FPL players. He continued his stunning form with a goal and an assist against Arsenal, bringing home 12 points.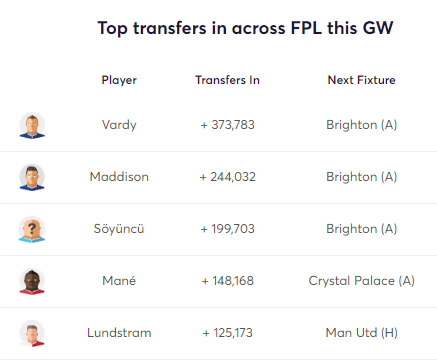 Over 370,000 players have brought him in for GW14 where Leicester face a Brighton side who will be without the suspended Lewis Dunk, and conceded 21 shots against Man United in a 3-1 loss, 11 being on target.
Teammates James Maddison and and Çağlar Söyüncü have also continued to rise, with the former being the fourth-highest scoring midfielder in FPL, and the latter being the fourth-highest scoring defender. Söyüncü was also recommended in our GW7 Bandwagon Predictions post, just saying.
Sadio Mané has also seen an influx of buyers, considering his form and Salah's fitness worries, which may well see him miss Liverpool's GW13 game against Crystal Palace.
Potential Bandwagons – GW13
Paulo Gazzaniga – GK / £4.5m / 3.0%
Embed from Getty Images
So, as you may have heard, Spurs have freshened things up a little bit after an atrocious 2019, Champions League antics aside. Poch has been sacked, and the Premier League's greatest touchline entertainer is back – they've got Jose Mourinho.
Naturally, the eye is drawn towards Spurs' defensive assets, as this is what Jose is known for. While some of his sides have actually scored bucket loads of goals and played beautiful stuff, his bread and butter is setting up a side that is hard to beat.
In FPL, this is where Gazzaniga can come in, at least for the time being. He's Spurs' first choice keeper following Lloris' nasty arm injury.
Though his FPL returns haven't been much to look at, it's not a surprise considering how poor Spurs have been as a whole – he could be a fantastic value option if Jose really improves Spurs' defence in the short term.
Looking at the fixtures, they've got a solid set of games from a defensive standpoint over the Christmas period: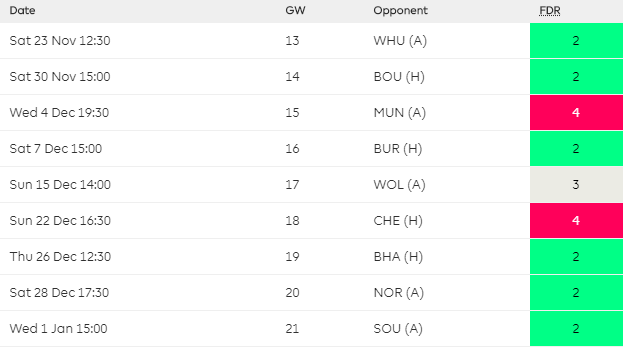 Embed from Getty Images
Richarlison – MID / £7.9m / 7.4%
A player who's been a popular choice in FPL over the past year or two, Richarlison has started to hit a decent patch of form. He's picked up a goal and 2 assists in the past 4 gameweeks, including a double-digit return last week against Southampton.
In those 4 gameweeks, Richarlison's had 11 shots, as well as 4 attempted assists – both attempting and creating 1 big chance. He's also had 36 touches in the oppositions' box, the 3rd-most of any player in that time.
His position on the left wing against Southampton saw him come inside rather often, amassing 8 touches in the box, as well as 2 shots in the box.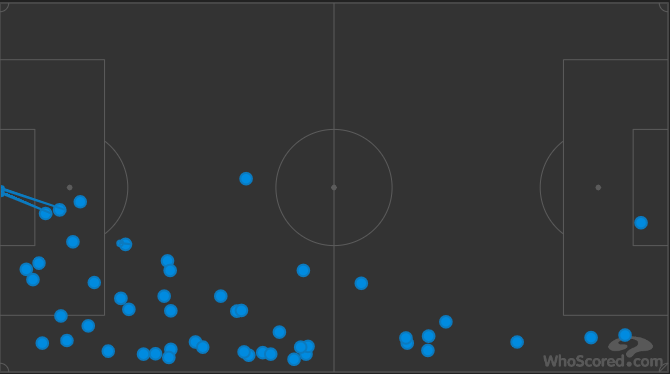 His ownership has started to climb gradually over the past few weeks: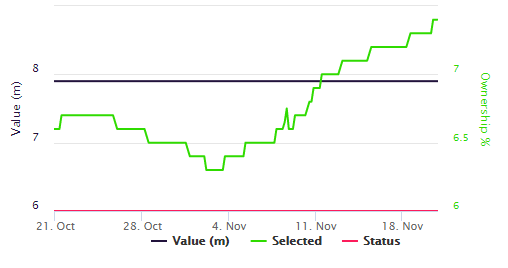 If any of Everton's players absolutely haul, which is possible considering they have Norwich at home, it could spark a bandwagon even with their rough run of fixtures.
Embed from Getty Images
Marcus Rashford – MID / £8.6m / 14.2%
Finally, a player whose stats really jump off the page but isn't really part of the FPL "meta", Marcus Rashford has impressed as of late.
He's has 11 goal involvements in his last 10 matches for club and country, with 3 goals and 1 assist in his last 4 Premier League games. Looking better since the return of Martial, Rashford has moved out to the left, seemingly his best position.
In terms of the aforementioned stats, Rashford has had 14 shots in the last 3 games, with 11 coming in the box. 5 of these shots have been big chances, the most of any player in that time. He's also created 6 chances, amassing an Expected Assists tally of 1.72 – more than any other player in the past 3 weeks.
Rashford has had 37 shots since the start of the season, joint-third of all players in the league – only 3 behind Salah and Aguero at the top. In terms of overall Expected Goals, he's top of the league for this with an xG of 8.26 – though, his Non-Penalty xG is 5.22. Not quite as good, but still in the top 10 of all players in the league.
He's also a primary free kick and penalty taker, though he has a slightly dodgy record with both of those as of late.
United have a solid set of fixtures, and Rashford is indispensable for them. If he continues his form, he could become even more of a popular pick.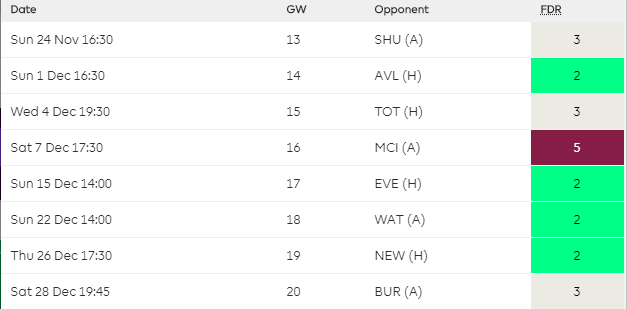 ---