In the following article we discuss what to do with Bruno Fernandes ahead of FPL Gameweek 34, is it really time to sell? Which players make the best replacements? Last week we assessed the best differential midfielders, this week we look at the best low owned defensive options for the coming gameweek and beyond.
Article written by @The_FPL_T
Gameweek 34 is the calm before the likely storm, with consecutive double and blanks weeks expected to be announced for gameweek 35 and 36.
At the time of writing we have just finished with blank gameweek 33, a week that proved frustrating for many as the majority of highly owned assets failed to score well. FPL managers can now look ahead to the next round with their Spurs and Man City players now available for selection, on paper GW34 appears to have plenty of points potential with a number of sides in good matchups.
With no major injury news, this week's transfer dilemmas centre around performance, or lack of in some cases. Bruno Fernandes (£11.5m) leads the conversation and the Man Utd star is currently the third most transferred out player ahead of Friday's deadline, having blanked in six of his last eight matches.
It seems unthinkable that we have reached a point where the current highest points scorer is considered dispensable, but trends move quickly in FPL and with only a handful of weeks left, upside chasing begins to dictate our plans.
GW33 was a minefield for clean sheets, Wolves, Liverpool, and Brighton were popular picks leading into the week but all three conceded, much to their owner's dismay.
Good fixtures are coming to an end for some sides, while others are entering or are in the midst of favourable runs. Which defences are best to jump on or off? Which assets are both low enough owned and carry enough upside to warrant our attention?
With just five gameweeks remaining it is crucial to nail those important decisions in order to gain an advantage. Understanding the difference between a brave move and a dangerous one can be the key to holding a mini league lead or overcoming a deficit, sorting the hot from not has never been so vital.
Bruno Fernandes, keep or sell?
Man Utd's 0-0 draw away to Roses Derby rivals Leeds brought about the third consecutive game without a goal or assist for Bruno Fernandes. The Portuguese playmaker had been earmarked as the gameweek's best captain choice for a while but ended up as just the third most popular pick among the top 10,000 managers (8.4%), behind Liverpool's Mo Salah (£12.6m) and the in form Kelechi Iheanacho (£6.2m).
Bruno's effective ownership (EO) was below 100% for the second consecutive week, a stark contrast to most of the season where he has consistently been one of the highest owned and most captained assets.
FPL managers are now faced with a tough decision; keep the faith with an expensive player and back that he will deliver more points, or sell the man who has been the highest scoring fantasy asset since his debut in January 2020.
It isn't a decision that should be taken lightly and indeed it is not a decision that has an obvious answer either. 221 points and 11 double digit hauls are stats that no other player can match, when Fernandes is at his best there is quite literally no one that can keep up.
The debate has obviously come about due to Bruno's lack of returns. The table above shows that despite being one of the leaders for underlying statistics he is the joint worst of the top ten for actual goal involvement, with one assist over the last six gameweeks.
Bruno's last goal came from the penalty spot against Man City in GW27 and after scoring 11 goals in his opening 16 games he has only managed five in the subsequent 17. Of those five, three have been penalties and in fact 50% of Fernandes' league goals have come from 12 yards this season.
What we are perhaps seeing is the realisation of a fact that for the most part we have been happy to ignore, Bruno just doesn't carry that much open play goal threat. Take away the penalties and you remove part of his arsenal.
In the six gameweeks since his last goal, Bruno has averaged 0.27 expected goals (xG) per match and his total xG of 1.67 is the tenth best of all midfielders in that time, and sixth best when adjusted for minutes. He is top for expected assists (xA), with a total of 1.90, illustrating where most of his threat has come from lately (although the totals are similar).
The raw data provides further clues, Fernandes' seven shots in the box (SiTB) are only enough to place him 15th among midfielders over the last six and he is 18th for touches in the penalty area.
All this data paints a picture of a player who is not in prime scoring positions often enough to be a consistent open play threat. However, this is nothing new with Bruno. The eye test will tell you that there is a lot about his game that cannot be measured by stats or metrics, for example his ability to score low quality chances. It also doesn't register moments like his dummy in the six yard box to allow Mason Greenwood (£7.1m) to score against Burnley in GW32.
Consider also that Bruno is still the second best mid for expected goal involvement (xGI) over the last six and has significantly underperformed the metric in that time. He has possibly been unlucky not to have returned more.
Over the season he tops the metric and is second for xG among midfielders, both the long term and short term stats tell us that he is without doubt one of the highest performing players in the league.
Like I said, it is not a decision to be taken lightly, and even if you were to part with Bruno, then who would you go to?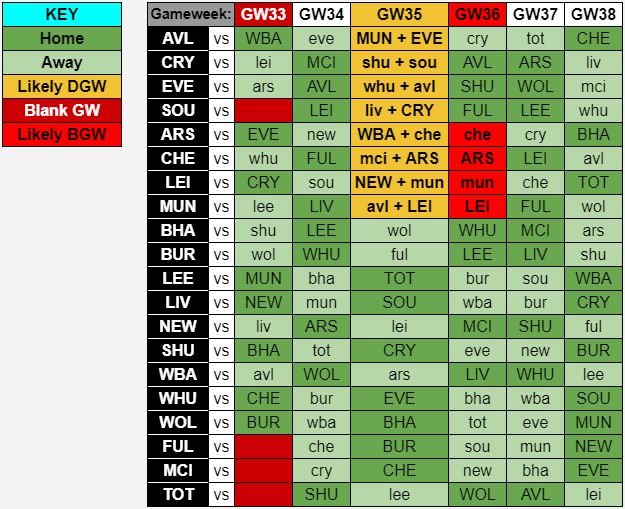 Glancing at the most transferred in players ahead of GW34, it appears as though Heung-Min Son (£9.5m), Matheus Pereira (£5.5m) and Phil Foden (£6.0m) are the most popular midfielders.
All three have favourable fixtures this coming week and with Man Utd playing Liverpool it is easy to see upside in looking for assets from other teams. With these players being so cheap it is likely that the spare funds will be used by managers to facilitate moves for Salah or Harry Kane (£11.8m), both are also among the most transferred in players at time of writing.
The aforementioned five players all have one thing in common, they cannot have a double gameweek as things stand. If the schedule falls as fixtures guru @BenCrellin predicts it will (see above), then removing Fernandes would mean taking out arguably the best captaincy option for GW35 and likely replacing him with someone who only has one fixture.
We are beginning to see a mini shift in the template, with managers moving money into attack, evidenced by the growth in ownership for Jamie Vardy (£10.3m). Many managers are now looking to run with a front three of Kane, Vardy and Iheanacho, capitalising on Leicester's double and good fixtures without having to compromise between the England forwards.
For me, that is the only scenario where I would consider selling Fernandes. The stats show us that someone like Mason Greenwood is posting similar numbers to Bruno and also converting on them, albeit at a significant rate of overperformance. A downgrade to another United player retains a stake in their strong attack and frees up the money to run the Kane-Vardy double up.
While I think there is logic in moving Fernandes to the in form Greenwood, I would urge caution. Mo Salah is the perfect example of why putting faith in stats will lead to results, the Egyptian suffered a five game goalless spell before netting in three of his last four. During that barren patch Salah continued to post league leading numbers, similar to how Fernandes is now.
It also must be noted that a downgrade to Greenwood, Dioga Jota (£7.1m) or James Maddison (£7.3m) represents risk. Greenwood and Jota are not nailed on starters every week and the latter has struggled with injury, while Maddison has had his own injury issues and his performances suggest he is yet to reach full fitness. It would mean taking out a nailed starter with an excellent track record for players with much less security.
I suspect the time to sell Fernandes has been and gone, the key to FPL is getting on or off players at the beginning of hot or cold streaks rather than reacting late to them. The data suggests that Bruno has been unlucky to not have returned more of late and it also supports the notion that he is likely to get returns imminently.
It's a luxury transfer and only one I would support if you have a suitable alternative captain for GW35 or if it facilitates a move to bring in Kane and captain him this week.
We know that Fernandes is as powerful an FPL asset as they come and over the season he has the best minutes per xGI of all midfielders, simply put he is the most likely player to get a return in any given week across the season.
It's easy to get blinded by physical returns, goals and assists, and while that is definitely important I would refer to both the short and long term data as a sign that this poor patch isn't likely to last long.
If you're not getting rid of Vardy for Kane, then ownership suggests one of Patrick Bamford (£6.5m), Ollie Watkins (£6.6m) or Dominic Calvert-Lewin (£7.5m) will likely make way. Bamford is about to hit a great run of fixtures, Watkins is in form and will have a double gameweek without blanking afterwards and DCL has great fixtures while also doubling without a blank.
There will always need to be compromise somewhere. For those who moved Kane to Vardy this week I would be inclined to let the move play out and take advantage of the Leicester man's imminent double gameweek. It's then easy to move Vardy to Kane in GW36, when Leicester will likely blank, this maintains team structure without having to downgrade elsewhere.
I'd never advise against Kane, but I would find another way to work him in rather than losing Fernandes and I certainly wouldn't take Fernandes out unless I absolutely needed the money elsewhere. Shifting money up front will likely require a hit for most too, lessening the impact of the move, and with limited weeks left there is less time for such a move to pay off.
We've seen what he can do, the kind of results he can produce. Stats-wise you couldn't ask for much more from Bruno, his numbers are still exceptional, this lean spell is not through lack of effort or quality. While his performances are still underlined by very strong statistics, both personally and by his team as a whole, I would keep faith in arguably one of the most dominant FPL assets of all time.
Differential Defenders
In a similar format to last week's Differential Midfielders feature, we look at the best under the radar defensive assets to tackle the coming gameweeks. The candidates this week are Lucas Digne (£6.1m), Jonny Evans (£5.6m), Seamus Coleman (£4.8m), Timothy Castagne (£5.8m) and Ezgjan Alioski (£4.3m).
These five have stood out for a number of reasons, the Everton players have great fixtures and as mentioned earlier they will double at some point without also blanking.
The Leicester defence is looking strong and they also have favourable fixtures and will double at some point. Leeds appear to have tightened up and their fixture run is about to improve, Stuart Dallas (£5.2m) is the obvious choice from their backline but Alioski appears to be a great option for those short on cash.
We'll start with the attacking potential of each asset. Lucas Digne leads the way for xGI, with a total of 1.08 over the last six gameweeks. Digne has had a stop-start season due to injury, but eight assists in 25 appearances is still a good return for a defender.
The major appeal with Digne is his potential to play out of position as a left midfielder in a 3-5-2, something Carlo Ancelotti has used with more regularity as the season has progressed. The Frenchman also shares set piece duty, although not as much as in previous seasons.
Seamus Coleman would be my pick of the two Everton players, however, with price playing a big part. The Irishman is a far easier switch from the similarly priced Wolves and Brighton defenders and his numbers when averaged out per 90 minutes are virtually identical to Digne's in recent weeks.
Coleman has also created ten chances to Digne's eight, further evidence that the difference in price does not equate to any sort of upgrade. It must be noted, however, that Coleman is not nailed to start every game, as can be seen by his recent sporadic minutes.
There is not enough to justify paying the extra for Digne at this time. Although Coleman has struggled for fitness himself, he now appears to have found his way back into the side. Coleman's good form is a positive sign that he is still capable of producing the types of performances that made him popular with FPL managers in seasons gone by.
Everton have one of the best runs of any side to finish the season, they face the struggling attacks of Sheffield United and Wolves, while also facing the still Grealish-less Aston Villa twice. Their only definitively tough games from a defensive perspective come against West Ham in GW35 and on the final day against Man City.
Even those matches may offer upside. The West Ham game will likely form part of a double gameweek and the Hammers have seen their own defence struggle of late, suggesting that although a clean sheet is unlikely Everton will be afforded chances for attacking returns. They are particularly weak down their left flank too, implying that the fixture will favour Coleman from an attacking perspective, rather than Digne.
The City game is clearly difficult, but that may depend on what is left to play for. City may rotate if they reach the Champions League final, or even give game time to some of their fringe players should the league already be won. There is a chance that Everton may still be playing for a place in Europe on the final day, differences in levels of motivation can massively influence results at this stage of the season.
The negative to picking either of the Everton full backs is their lack of open play goal threat, as evidenced above. Both Digne and Coleman are solid creators but rarely find themselves in legitimate goal scoring positions.
The king of goal threat is Leeds' Alioski. Essentially a winger turned left back, the Macedonian has nailed down a starting spot over the last six gameweeks and is a constant threat down the Leeds left.
The Yorkshire side appear to have tightened up as the season has gone on, keeping clean sheets against Chelsea and Man Utd recently and only conceded a single goal in each of the four games in between. In that time Alioski registered an assist and actually totaled more penalty area touches (9 vs. 7) and SiTB (5 vs. 4) than his out of position colleague Dallas.
With Leeds' fixtures about to level out, now appears to be the perfect time to renew interest in their assets. They face the inconsistent Brighton this week, and round the season off with three games against sides they have already kept clean sheets against in Southampton, Burnley and West Brom.
Their most difficult match is against Tottenham in GW35. You wouldn't expect a clean sheet, but Spurs are weakest down Alioski's flank at least. At his price he is easy to bench and a good option for those that can't find an extra million to get to Dallas.
It remains to be seen whether Leeds' defensive improvement is as a result of a change in system or only to specifically deal with the more difficult games they have had of late. Brighton will pose enough of a threat for us to get a better idea this week. If this improvement appears to continue then Leeds' defence could be excellent value to end the season.
Timothy Castagne has burst back onto the FPL scene with consecutive attacking returns. The Belgian has spent a lot of the season on the sidelines but has thrived since returning to his preferred right wing back position in the last two matches.
While still a differential at under 15% ownership among FPL's elite teams, he is currently one of the most transferred in players ahead of GW34 and as such that number will likely rise.
I wonder if this renewed interest is premature? The table above shows Castagne's last two matches (left side) against his previous seven (right side), the sea of red represents a period where he was used almost exclusively on the left flank while the green shows the vast improvement since his return to right back.
My worry would be that he will find himself out left before long. With Ricardo Pereira (£5.9m) on the bench recently, the fear is he will start some games even if he is not fit to feature in all. In previous weeks Ricardo's presence has forced Castagne to the left side, it is perhaps a role he is less comfortable in but the eye test also tells us that Brendan Rodgers likes his left back to stay wider, while the right back is allowed more freedom to maraud.
We saw Castagne move left towards the end of Leicester's win over Crystal Palace, with Mark Albrighton (£5.2m) filling the right wing back spot. The concern is that with Luke Thomas (£4.1m) being relatively green, it is likely that Castagne will spend more time on the left than not, given the other options on the right side. His stats are so dramatically worse on the left that he is probably too expensive to risk.
The Leicester defence has been posting excellent numbers of late, the table above shows their data over the last six gameweeks and it matches up to the very best in the league.
Jonny Evans provides the best compromise in my opinion, tapping into the Leicester clean sheet points and also providing enough attacking threat to justify looking away from the full backs. Indeed, Evans has taken more shots in the box and has had more big chances than Castagne in the last six gameweeks, largely due to his decent set piece threat.
For those looking to step away from the rotation ridden Man City defence, Evans provides a secure option in a quality backline. With Leicester likely to double at some stage and the quality of their fixtures, their defensive assets have some of the highest upside in what is left of the campaign.
The issue with Evans is his price, £5.6m is excessive for a player with only three attacking returns this season and even though his numbers have improved of late, Evans is not known as a regular scorer. Like Castagne on the left, Evans is slightly too expensive for what he offers.
Coleman is the standout pick of the five (should he nail his place). He is fairly priced and perhaps even underpriced should he continue his good form. Everton's defence is the seventh best for minutes per xGC over the last six, while not perfect the stats suggest it is improving and given their favourable run and lack of blank gameweek their assets are easy to own through till the season's end.
Coleman offers similar stats to Digne but at a lower price and the data suggests he is more likely to return than Evans or Castagne, albeit via assists. Everton are a more reliable option than the Leeds backline, and while I like Alioski I would only encourage a move for him should Dallas be too expensive (or as a double-up). The benefit of going for Coleman is his price enables more money to be spread across the defence and as such Dallas should be attainable.
At 0.69% top 10k ownership, Coleman is an uber differential and is posting numbers that will soon make a mockery of that figure. A really strong option and one I am very keen on once the double gameweek gets announced.
*Underlying statistics and tables obtained via the author's paid subscription to Fantasy Football Scout. Double gameweek fixture planner created by Ben Crellin*